As Egypt votes, a surprising calm. But real test still to come
(Read article summary)
The first day of voting in Egypt's parliamentary election has been surprisingly calm and orderly. But the process will stretch out over three rounds set to culminate in January.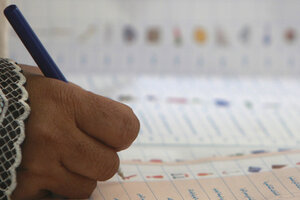 Amr Abdallah Dalsh/Reuters
After a week of revolutionary upheaval, with state violence against democracy protesters leaving dozens dead in Cairo, Egypt began voting today in its first parliamentary election since the fall of former President Hosni Mubarak.
While the protests against Egypt's military rulers and attendant violence had many people questioning whether the first round of parliamentary elections could be fairly held today, most observers on the ground – including our correspondent Kristen Chick – are reporting a surprising amount of calm and order.
In Cairo and Alexandria at least, there were long lines of voters at multiple polling stations, and reports of a generally buoyant mood. The hard-core activists in Tahrir Square, still insisting that elections be delayed this morning, have had little impact on the day so far.
While these are positive early signs, stress must be placed on "early." Egypt's parliamentary election is being stretched out over three stages and two months. The ballots' hodge-podge of party lists, individual candidates, and parliamentary quota requirements for ill-defined "farmers" and "workers" is very hard to disentangle, increasing the likelihood that voters will make mistakes.
---