Hillary Clinton compares parts of Israel to Jim Crow south
(Read article summary)
Over the weekend, Hillary Clinton targeted rising religious extremism in Israel, something that could one day open a rift between the US and the Jewish state.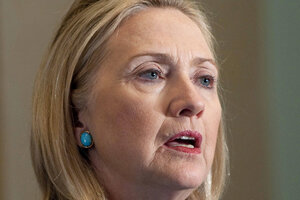 Saul Loeb/Reuters
Hillary Clinton said over the weekend that requirements for women to ride in the back of some Jerusalem bus routes reminds her of segregated busing during the height of the civil rights era in the south. She also said that the country's growing religious right reminds her of Iran, according to press accounts of her closed-door remarks in Washington.
Israeli papers reported that Mrs. Clinton expressed her concerns at a Saturday meeting of the Saban Forum at the Brookings Institution's Saban Center, a think tank funded by US-Israeli billionaire Haim Saban (his fortune rests in the Power Rangers franchise and other shows for children). The State Department confirmed her appearance, but did not release a transcript of her remarks.
According to the Israeli press, Clinton said gender segregation on some Israeli buses reminded her of Rosa Parks; that proposed legislation in Israel to control the funding of left-leaning groups worries her; and that the attitudes of a growing and increasingly powerful ultra-Orthodox community, particularly its attitudes toward women, are reminiscent of Iran.
---