Merkel, Sarkozy to Europe: shelve your sovereignty, save the euro
(Read article summary)
The plan put forth from the German and French leaders to save the euro amounts to a call for European states to give up full control over their own spending.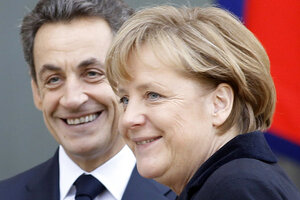 Remy de la Mauviniere/AP
An end to sovereign control over European budgets. That was the big idea that Germany's Angela Merkel and France's Nicolas Sarkozy outlined in a letter to European Council President Herman Van Rompuy Wednesday.
The call for bracing, immediate change should lead to a fascinating day today, when European leaders gather in Brussels to discuss ways out of the euro crisis.
The Daily Telegraph is also reporting that Mr. Van Rompuy has written a paper to be discussed tomorrow on fiscal union, which calls for a "higher degree of surveillance and discipline in the conduct of national policies."
The meat of the proposal
A lot of the language around this issue has been indirect – not least among the European politicians who favor giving Brussels control over the budgets of member states like Italy and Spain, whose struggles with sovereign debt and slow growth have terrified investors and economists about the potential for a cascade of European defaults.
---