With US gone, Iraq's Maliki is setting the board for a power grab
(Read article summary)
Iraq's Shiite Prime Minister Nouri al-Maliki has wasted little time since the US departure, with politically motivated terrorism charges against his Sunni vice president and moves to oust other opponents from the government.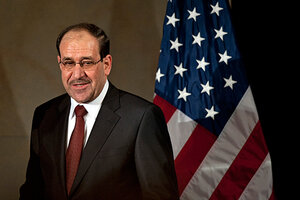 Cliff Owen/AP
Iraq is in political crisis, less than a week after the formal end of direct US involvement in the war there. Prime Minister Nouri al-Maliki has brought terrorism charges against Sunni Vice President Tareq al-Hashemi, is moving to oust Sunni Deputy Prime Minister Saleh Mutlaq from his position, and has threatened to take away the nine cabinet seats held by the largely Sunni Iraqiyya bloc and replace them with members of his own Shiite governing coalition.
Mr. Hashemi, a Sunni Islamist who heads the Iraqi Islamic Party, is a member of the Iraqiyya bloc, and had a number of close family members murdered during Iraq's civil war. Hashemi had some ties to Iraq's insurgency during the worst of the fighting (when former Monitor reporter Jill Carroll was released by her Sunni kidnappers in 2006, she was dropped off in front of his office) but has worked as much as any on his side of the fence to forge sectarian reconciliation in the years since.
But now he has fled to Kurdistan, where he's being shielded from his arrest warrant. In a televised news conference today, Mr. Maliki threatened the Kurdish north with "problems" if they don't hand over Hashemi.
Iraqiyya's legislators have walked out of parliament while the group attempts to hang on to its cabinet seats, which are the valves of political patronage in the new Iraq. While Maliki's threat to simply appoint his own ministers is unconstitutional, the Constitution has been increasingly ignored when inconvenient.
---