Iraq war: Predictions made, and results
(Read article summary)
A look back at some of the predicted US outcomes for the Iraq war, and what happened.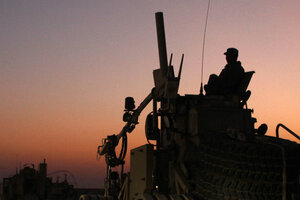 Maya Alleruzzo/AP
Would the war be cheap and would Iraq pay for it?
The projections: Ahead of and shortly after the US invasion of Iraq in 2003, a number of officials, including former Defense Secretary Donald Rumsfeld and his deputy Paul Wolfowitz suggested the war could be done on the cheap and that it would largely pay for itself. In October 2003, Rumsfeld told a press conference about President Bush's request for $21 billion for Iraq and Afghan reconstruction that "the $20 billion the president requested is not intended to cover all of Iraq's needs. The bulk of the funds for Iraq's reconstruction will come from Iraqis -- from oil revenues, recovered assets, international trade, direct foreign investment, as well as some contributions we've already received and hope to receive from the international community." In March 2003, Mr. Wolfowitz told Congress that "we're really dealing with a country that could finance its own reconstruction." In April 2003, the Pentagon said the war would cost about $2 billion a month, and in July of that year Rumsfeld increased that estimate to $4 billion.
What happened? The Iraq war cost about $800 billion, or about $7.6 billion a month. When long term benefits are paid out connected with the death and injury of US troops there, the number is expected to rise to about $1 trillion, or about $9.5 billion a month. About $60 billion was spent directly on Iraq reconstruction efforts.
---