Iran's threats over Strait of Hormuz? Understandable, but not easy
(Read article summary)
Iran has issued two threats that it could close the Strait of Hormuz, reminding the world how it could spike oil prices if the US or Israel attacks. But it wouldn't be easy.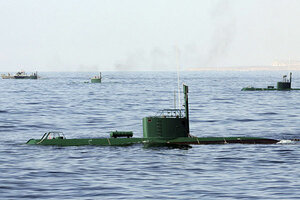 Mohammad Ali Marizad/Young Journalists Club/AP
The boasting from an Iranian admiral today that it would be "easy" to close the Strait of Hormuz – the chokepoint for much of the world's oil tankers heading for the Red Sea and Europe and east towards Asia – should be treated as just that.
"Closing the Strait of Hormuz is very easy for Iranian naval forces," Iran's navy chief Habibollah Sayyari told state-run propaganda channel Press TV. "Iran has comprehensive control over the strategic waterway." His comments followed similar words from Vice President Reza Rohimi yesterday, and an announcement a few weeks ago that the Iranian navy would be conducting military exercises to simulate shutting the Strait of Hormuz, through which 40 percent of world's sea-borne oil passes.
How serious is this? Sure, the price of oil jumped (traders love the market action, and you have to wonder if the Iranian government had bought oil futures before their state media started hyping this story). But prices are settling back as fear and panic are being replaced with reasoned reflection: A threat to do something isn't a promise that it will happen. A threat is often, as in this case, a way to send a strategic message. Iran is responding to the bellicose rhetoric that's emanated from the US and Israel in recent weeks by saying "we can make you suffer if provoked."
Could they? Sure. Iranian moves to close the Strait, perhaps by sinking a tanker, would cause oil prices to skyrocket, increase the threat of a broader regional war, and create weeks of uncertainty. It's one of the reasons that a war between the US and Iran, started by either party, seems unlikely. Both economies would be badly damaged.
But if it comes to war could they "close" the Strait? Not for very long.
---