Russia's row with Britain escalates
The Russian Foreign Ministry summoned Britain's ambassador Monday, after the British Council defied orders by reopening its offices.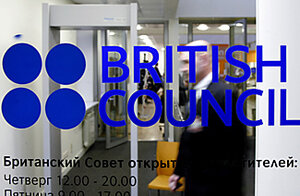 Alexander Demianchuk/Reuters
Russia's diplomatic chill with Britain deepened Monday. Following the decision of the British Council, the cultural arm of the British government, to open its Russian branches in defiance of a Foreign Ministry order to shut down, British ambassador Anthony Brenton was called in to explain.
"The ambassador was told that the Russian side regarded such actions as deliberately provocative and aimed to escalate tensions in Russian-British relations," a Russian Foreign Ministry statement said of the British decision to reopen British Council branches in St. Petersburg and Yekaterinburg after the holidays.
The statement added that Russia would retaliate by moving to collect "back taxes" and denying visas and work permits to the organization's British staff.
Emerging from the meeting, Mr. Brenton told journalists that Britain would consider any attempt to forcibly shut down British Council operations as "contrary to international law" and said he hopes the dispute will not spread to other areas of the relationship.
Experts say this is a dangerous aggravation of the diplomatic war between the two countries that began with the fatal poisoning of former KGB agent Alexander Litvinenko in 2006.
---