From fjord to fame: A Norwegian concert pianist hits the world stage
Out of the land of Grieg comes Leif Ove Andsnes. His mission: to compete with ringtones, iTunes, and YouTube for short attention spans.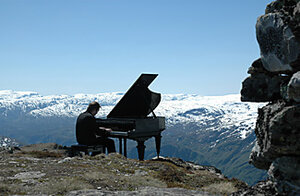 Courtesy of NRK
Norway, ah Norway. The land of rugged mountain men who scale craggy peaks and ... plunk pianos atop them? It may be a scene from a TV documentary, but the handsome guy hammering the ivories cliff-side is no actor. Leif Ove Andsnes is the real thing.
The windswept island of Karmøy off Norway's western coast isn't exactly known for world-class concert pianists. But who better to host a Norwegian TV special about that nation's only well-known composer, Edvard Grieg, than Mr. Andsnes, who, from Karmøy's remote shores, launched an unlikely career of global stardom?
So popular at home that he had to acquire a flat in the Danish capital, Copenhagen, for breathing room, Andsnes occasionally has the opposite problem abroad.
"I've had some rather arrogant Italian audiences – it takes time to convince them," laughed Andsnes over breakfast in Boston last weekend. "You know, I am coming from cold Norway to their great country with so much culture. But once they are convinced, they are very faithful.
• • •
This weekend, it will be a New York audience he'll try to win over, tackling his biggest project of the year – the nearly hourlong Brahms Piano Concerto No. 2 – with the New York Philharmonic Orchestra. He's coming off a successful Boston stop where he teamed with veteran conductor Rafael Frühbeck de Burgos and the Boston Symphony Orchestra for three well-received performances of Rachmaninov's Concerto No. 2.
---