Serbia faces dramatic runoff vote
The Radical Party acting leader Nikolic got 39 percent of the vote in presidential polls Sunday. He and pro-European moderate Tadic will square off in Round 2 of voting on Feb. 3.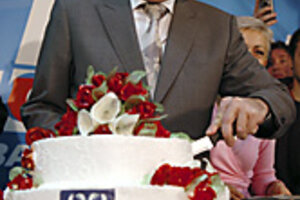 Reuters
The largest Serb election turnout since voters tossed out Slobodan Milosevic in 2000 has set up a dramatic runoff for Feb. 3 between a radical pro-Russia nationalist whose mentor is at The Hague for war crimes and a pro-European Union moderate who has favored trade, reconciliation, and even NATO status.
Serbian Radical Party chief Tomislav Nikolic and President Boris Tadic faced an identical scenario in the 2004 Serb elections. Mr. Tadic won.
But that was then, and this is now, experts say. Since 2004, Serbia's political and emotional mood has shifted to the right, favoring nationalists like Mr. Nikolic, experts say, who garnered 39 percent of the Round 1 vote, versus 35 percent for Mr. Tadic.
In 2004, moreover, Nikolic was a political novice, the status of Kosovo was not the highly wrought issue it now is, and Tadic was backed by current Prime Minister Vojislav Kostunica. That backing is no longer certain.
Significantly, the February runoff takes place days before the ancient Kosovo heartland of Serbia declares independence. With losing Kosovo as the main issue, the election is seen to be a crossroads for Serbia and the Balkans – and has major implications for a Europe that is soon to send 1,800 police to Kosovo to keep the peace.
---