It's official: Medvedev for (Russian) president
President Putin's chosen successor, he kicked off his campaign Tuesday with a Kremlin-sponsored speech.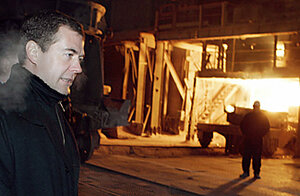 Dmitry Astakhov/RIA NOVOSTI/AP
To go by his Russian media image, Dmitri Medvedev is a youthful, rock music-loving intellectual and a closet liberal who yearns to improve popular living standards. According to his official income disclosure, he earns just $71,000 per year and lives so modestly that his family's only car is a nine-year-old Volkswagen.
Mr. Medvedev is also the chairman of state-owned Gazprom, one of the world's largest energy companies, a longtime Kremlin insider, and Vladimir Putin's hand-picked choice to succeed him as president in polls slated for March 2.
Backed by two dominant parliament-based political parties, he sailed through Russia's obstacle-strewn registration process and officially kicked off his campaign with a speech to a Kremlin-sponsored civil society conference on Tuesday. Supported by Mr. Putin, who has agreed to become Medvedev's prime minister, he has pledged to make Russia one of the world's top five economies by 2020 and spread the country's oil wealth more widely by injecting billions of fresh dollars into social programs.
Medvedev's main theme was to maintain the political course set by his mentor, Putin, whose public approval ratings currently top 80 percent. In a survey conducted last week by the state-run polling agency VTsIOM, 76 percent of respondents said they expect Medvedev to win the elections, though only 53 percent thought he would be capable of "handling his presidential duties." In a separate poll done in late December by the independent Levada Center, 42 percent of voters said Medvedev's main strength was Putin's trust in him, while just 4 percent pointed to his personal independence.
---