A case of French justice – a window on the nation
The burglary defendant hauled his loot in a taxi, the defense attorney wore slippers, and the judge deemed the victims guilty by reason of naiveté.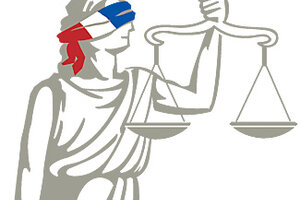 john kehe - staff
The trial of the serial burglar unfolded in a wood-paneled courtroom under a massive 18th-century crystal chandelier.
The lawyers wore black robes and ermine-tipped ties. Stylized Phrygian hats, olive wreaths, swords, and scales danced in frescoes across the ceiling. Above the raised judges' podium, an enormous oval oil painting portrayed a square-jawed woman sitting in judgment, one hand resting on the hilt of her sword.
For those whose apartments had been burgled, 14 of us robbed by the same man in a period of just six weeks, the effect was both daunting and reassuring. Everything seemed to announce Tradition and Justice. The trial itself would surely be formal, mannered, and businesslike.
But a courtroom is a microcosm of the society it serves. And the trial of accused thief Radouane Aidour Dahib could be seen as a reflection, perhaps a caricature, of France. Like much of daily life here, it was delayed by public transit strikes, governed by ancient procedural rules, distracted by philosophical debates, and shot through with a streak of rebellion. In the end, everybody, including the victims, was assessed a share of guilt.
Mr. Dahib was a tall man of 31 with an extraordinarily narrow face and a criminal record dating back to his teens. Born in Morocco but raised in central France, he'd been unemployed nearly all his adult life. When the police arrested him for his latest string of burglaries, in the fall of 2006, he confessed to the crimes. So the trial, only vaguely structured like an American criminal trial, was focused on what punishment to mete out and whether extenuating circumstances should be taken into account.
---