For Serbs, tennis rules, and it's all about Djokovic
Despite poor funding and coaching, Serbs are excelling in a variety of sports.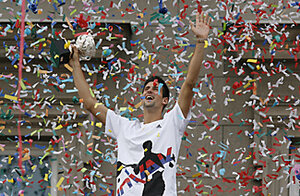 OLEG POPOV/REUTERS
Serbia's new keeper of national pride and morale,met cheering throngs at City Hall on the eve of key presidential elections – with a rock band playing "Simply the Best."
But Serb tennis star Novak Djokovic, a charmer so adored that he could possibly swing the vote – only swung the racket he used to win the Australian Open last week above his head. Some 12,000 Serbs went nuts. "Nole! Nole!" they shouted, using Mr. Djokovic's nickname.
Serbs may have been voting in tense elections Sunday between a future in the East or West. But no one wanted the miracle of four Serb players in a Grand Slam final spoiled by politics that hang heavily over Belgrade now.
Tennis success has become an improbable lifter of spirits in Serbia. In the past two years, Serbia has revised pro-tennis's Top 10. In Australia, Ana Ivanovic, the women's world No. 2, reached the finals; Jelena Jankovic, No. 4, made the semifinals. Serb Nenad Zimonjic won the mixed doubles with Chinese partner Sun Tiantian. Djokovic, currently No. 3, took down fearsome Roger Federer in straight sets to win Serbia's first major. He said in Melbourne that the Australian finals had become "the Serbian Open." That got laughs when he repeated it here at a hero's welcome press conference.
---