UK bugging case: too much Big Brother?
An outcry arises despite already heavy use of surveillance. Wednesday, Prime Minister Brown announced plans to admit some wiretap material in court.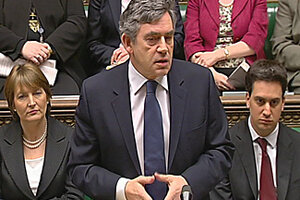 Parbul/Reuters
Britain's love-hate relationship with surveillance has taken a new twist with the news that a member of Parliament was bugged while visiting a constituent in prison – a breach of rules that privacy advocates say is symptomatic of a cavalier free-for-all in one of the world's most closely watched societies.
The outcry involving Sadiq Khan, whose conversations with a man facing extradition to the United States on terrorism charges were secretly recorded, has generated alarm that individual rights are increasingly becoming subordinated to national security. That debate swirled around the British Parliament again Wednesday, when Prime Minister Gordon Brown announced plans to allow some wiretap material to be used in court to boost the prosecution cases against suspected terrorists.
But even Mr. Brown admitted that there was a fine line to tread between national security and private freedoms. "The use of intercept evidence characterizes a central dilemma that we face as a free society – that of preserving our liberties and the rule of law, while at the same time keeping our nation safe and secure," Brown told Parliament.
It is ironic that Britain has, for so long, bucked the international norm of using wiretap evidence in court, given its growing reputation as the "big brother" of the democratic world. Bugging and telephone wiretaps can be set up without recourse to a judge – unlike the vast majority of European democracies and the US. The home secretary authorized more than 3,500 spy operations in 2005 and 2006.
---
Follow Stories Like This
Get the Monitor stories you care about delivered to your inbox.