Impoverished Serb tennis on a roll
Things are looking up: Practice is no longer held in the drained Olympic-size pool.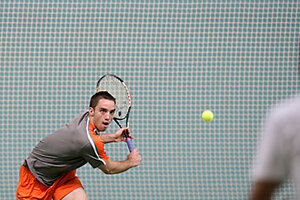 Aleksandar Stankovic/Special to The Christian Science Monitor
On a recent crisp Saturday afternoon at Gemax, Serbia's top tennis club, all four indoor courts were full. A group of middle-aged men played a languid game of doubles on one; on another, four stooped, gray-haired men exchanged shots with surprising vigor. At the far side, a class of boys – aged 8 to 11 – sent a flurry of balls in all directions under the watchful eye of a female coach.
There was little obvious sign that world-class tennis was being practiced here on one of the middle courts. No flashy equipment, ball boys, or spectators. No managers, masseuses, or physiotherapists. The only clue was the quality of play. A pair of tall young men in bright, expensive tennis outfits volleyed with easy concentration, stopping occasionally to exchange a word over the net.
Viktor Troicki and Nenad Zimonjic – both minor stars in Serbia's current glittering tennis constellation – were squeezing in a final practice before they headed to Moscow for the country's clash (Feb. 8-10) with Russia in the first round of the Davis Cup.
But conditions here in the nation's premier tennis venue were hardly ideal. Even the court was wrong: at Gemax, the two men train on carpet; but the Russian venue would be a hard court.
Serbs, shrug players here, are used to difficult conditions.
•••
---