Archbishop controversy: does sharia have a role in Britain?
The head of the Church of England answers critics of a speech in which he said it might be applicable in certain areas.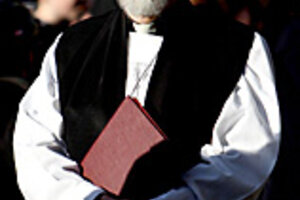 Chris Radburn/AP
British deliberations on how better to assimilate the country's Muslim minority have been unsettled by the head of the Church of England, who said the application of sharia, or Islamic law, in Britain was becoming unavoidable.
Rowan Williams's remarks have provoked a national outcry and elicited a cool response from the government, which, under Gordon Brown has been trying to reverse the tendency toward Muslim segregation.
But among British Muslims, the reaction has been far more mixed. Some, particularly women, say they don't want any kind of sharia justice in Britain. Others say an informal system of Islamic legal arbitration already functions happily alongside British common law (as do traditional Jewish tribunals).
Many praise the archbishop for thoughtfully trying to reach out across a faith divide that sharpened after the July 7, 2005, attacks, and express sadness at the knee-jerk vilification of him. "We are not calling for sharia and saying we must have it," says Raza Nadim of the mainstream Muslim Public Affairs Committee. "We welcome the debate, but it's sad that someone who is trying to help Muslims and non-Muslims integrate is being painted as the extremist."
Yunes Tainaz, a former adviser to the London central mosque, said he congratulated Dr. Williams "for his sincere and brave stand" and insisted that sharia could help social cohesion and obviate cultural anomalies like forced marriage.
---