Hungary's anti-Roma militia grows
Targeting the criminal activity of the country's minority Roma population, the Magyar Garda style themselves protectors of ethnic Hungarians.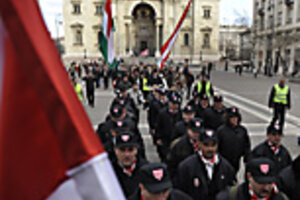 Bela Szandelszky/AP
The far right is on the march in Hungary, literally.
In recent months, hardly a week has gone by without a rally being held by the Magyar Garda or "Hungarian Guard," their members decked out in black boots and uniforms bearing nationalist symbols last employed by Hungarian fascists during World War II.
Their target: Romani (gypsy) criminals and those who want to integrate Romani children into the country's schools. Their rallies usually take place in communities with a large Roma population, where they style themselves as protectors of ethnic Hungarians.
"Roma criminality is a huge problem in Hungary that's been swept under the carpet," says Zoltan Fuzessy, a spokesman for Jobbik, a far-right political party whose leader, Gabor Vona, is also the leader of Magyar Garda. "The number of our supporters is growing day by day."
Their opponents are growing as well. Budapest's public prosecutor has called for the group to be banned, while Mayor Gabor Demszky has called on municipal officials across the country not to attend its events. Hungary's president, Laszlo Solyom, has described its rallies as "immensely damaging," while Prime Minister Ferenc Gyurcsany calls it "the shame of Hungary."
---