Kosovo tries to launch independence softly
Despite Serbia's ire, province may declare independence as soon as Sunday.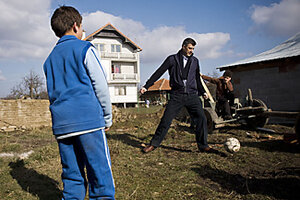 VISAR KRYEZIU/AP
Albanians here have craved independence for nine long years of loud tearoom debates. Now with a declaration expected as soon as Sunday, Kosovo officials hope independence from Serbia will be so quiet it will scarcely be noticed.
The hallmark phrase repeated by Prime Minister Hashim Thaci to local mayors all week is "independence with dignity." This means no bacchanalian outbursts, no in-your-face waving of Albanian flags around Serb enclaves, no mass rallies – nothing to provoke the incidents that officials here think Belgrade would like to see.
Popular expectations in the breakaway province are being scaled back by officials – that independence can magically solve all the difficulties of this sensitive Balkan flash point that has been overseen by the United Nations since 1999.
"We want to be a peaceful nation joining Europe, and we want that from the start," says Interior Minister Zenun Pajaziti. "A crisis is not in our interest."
"You only get a chance to declare independence once, so you need to do it right," says Louis Sell, a former US diplomat with Balkan experience.
---