After declaring independence, Kosovo looks to cautious next steps
President Bush hailed the controversial move, as the EU and UN met to form their responses.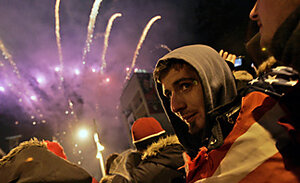 Darko Bandic/AP
PARIS; and PRISTINA, KOSOVO
For Kosovo, a peaceful declaration of independence from Serbia on Sunday brought well-mannered euphoria. But the next days may be as crucial as the long decade of waiting.
Maybe more so: Kosovo is now "proud, independent, and free," declared Prime Minister Hashim Thaci. The last crumbs of a chocolate-vanilla cake that fed 30,000 jubilant Albanians on Mother Teresa Avenue have been eaten by flocks of blackbirds. But the tiny new state's status remains to be hashed out by great powers in Brussels, New York, Washington, and Moscow this week.
The legal basis for moving the United Nations administration out of Kosovo – and European Union forces into it – are disputed by Russia. United Nations Secretary General Ban Ki Moon is in a hot spot since he will need to interpret key UN resolution 1244. The West says the resolution allows for Kosovo's independence since it plainly sets up a final status process; Moscow and Belgrade argue it doesn't.
---