Macedonia name dispute with Greece threatens NATO bid
Greece says former Yugoslav's state name – the same as a Greek province – is not acceptable.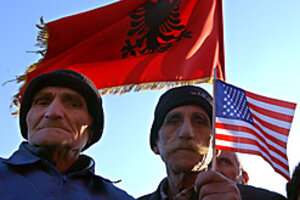 Boris Grdanoski/AP
Skopje, Macedonia; and Pristina, Kosovo
On the heels of Kosovo's declaration of independence, a deepening dispute in neighboring Macedonia threatens to further rattle the fragile Balkans.
The former Yugoslav state is expecting an invitation to join NATO at a summit in April, and Macedonian officials say the country needs membership in the security organization, and later the European Union, to maintain stability. But Greece has threatened to scupper Macedonia's membership bid if it does not change its name, which Greece says implies a territorial claim to the northern Greek province of Macedonia.
Macedonia has largely been calm since a 2001 uprising by its large Albanian community against state security forces. After several months of fighting, a fragile peace was brokered. But the delicate security situation could deteriorate, experts in Skopje have warned, if Greece vetos the former Yugoslav state's bid to join international organizations.
Greece has insisted that Macedonia is properly known as the Former Yugoslav Republic of Macedonia (FYROM) in such organizations. But more than two-thirds of UN member states, including the United States, have recognized Macedonia under its constitutional name – the Republic of Macedonia.
"Any state that applies for membership is given the criteria and should not be given additional criteria by any other country," says Emil Kirjas, Macedonia's former foreign minister. "Greece is acting illegally to put this extra condition on Macedonia to join NATO or the EU."
---