Serbs try to claim a piece of Kosovo
The Serb-dominated area of Mitrovica is a flash point, and could be lost to Serbia.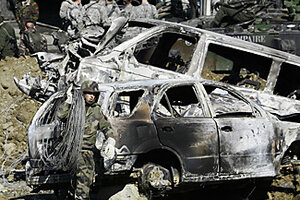 Srdjan Ilic/AP
PARIS; and LEPOSAVIC, KOSOVO
The independence party in Kosovo has gone slightly sideways. Days after fireworks over Pristina, Kosovo Serbs in the large northern enclave of Mitrovica have deepened the divide between themselves and the Albanian majority to the south, raising concerns of permanent partition. Well-organized Serb groups are allowing militant convoys from Serbia proper into Kosovo, torching United Nations-controlled entry points on the border, and beating up non-Serbs.
The Serb stronghold of Mitrovica has nearly become a no-go zone for outsiders – just days after the tiny state of Kosovo declared independence. A bridge over the Ibar River that runs through the city of Mitrovica, dividing Albanians from Serbs, may now become a larger symbol of East-West divides. Optimists feel that time and trade will change this.
US, Germany, Italy, France, and Britain quickly recognized Kosovo – but Russia has backed Serbs' bitter denial of Kosovo statehood.
Without the use of NATO's 17,000 KFOR troops or UN forces, which no one expects, Kosovo's territory is likely to split.
---