Nashi and the Young Guard: two paths toward building support for Putin
The groups engage in social programs and political events, but their approaches differ markedly.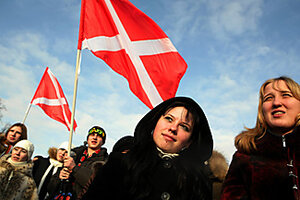 Melanie Stetson Freeman – Staff
Pavel Elizarov is just the kind of teen President Vladimir Putin's government started worrying about a few years ago.
"I was never political until I was 18. But in 2004, I was in Ukraine on a tourist trip with my friends, and I saw happy people who were protesting," says Mr. Elizarov, referring to the Orange Revolution, which brought hundreds of thousands into the streets to protest fraudulent elections. "They were all together, and I thought that they were capable of changing something in their country."
Indeed, Ukraine's new pro-Russia president was forced to hold fresh elections, which his West-leaning opponent won. Such revolutions buffeted other post-Soviet states – Georgia in 2003 and Kyrgyzstan in 2005.
Keen to avoid such upheavals, political forces close to Mr. Putin quickly backed two pro-Kremlin youth groups: Nashi and the Young Guard. Today, both claim roughly 100,000 members each, who engage in social programs as well as political events. But their approaches are decidedly different.
Nashi's federal headquarters lurks beneath dim streetlights in northwest Moscow. Its windows are barred, its door unmarked. Inside, youths with nose piercings and tousled hair mingle in hallways plastered with vibrant magazine photos of Nashi activists. Here, they plan their "actions" – anything from picketing stores that sell tobacco to underage teens to massive pre-election demonstrations to encourage citizens to vote – for Putin's party, of course.
"My grandfather was a state official, my father was a state official; I want to be useful for my state," says Maria Drokova. An 18-year-old commissar, she speaks excellent English and credits Putin with stopping the war in Chechnya, raising salaries, and paying off Russia's Soviet-era debt.
---