In a high-tech pig farm, rural Russians gain a foothold to a better way of life
The government is pushing agricultural investment to improve productivity and revive the countryside.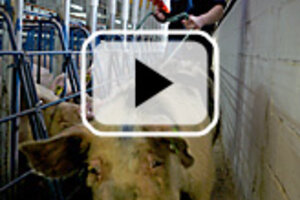 Melanie Stetson Freeman - staff
Three hours outside Moscow, where snowy weeds bow to the bitter wind, salvation has come.
It's not pretty; in fact, it really smells. But for the 27 people who work inside the steamy barns of this new pig farm, life just got a whole lot better.
"We worked at a socialist farm before coming here. The labor conditions were zero and the salary was low," says Natalya Kuskova, a team leader who now gets five weeks of vacation to spend with her daughter. "Our farm is so wonderful; they pay for lunch … and the attitude toward us is very good; it inspires you to work."
The operation, valued at $29 million, was funded by a Spanish outfit and is expected to pay off that investment in six to seven years. It is part of a boom in agriculture across Russia, where land is 20 times cheaper than in Europe, and a two-year-old government initiative offers virtually interest-free credit to investors. One of five "national projects" implemented under President Vladimir Putin, the agriculture push is aimed at increasing production and reviving the countryside.
"I live 10 kilometers [six miles] from here – we've got neither pigs nor cows," says Tatyana Novichkov, a young employee in the farm's artificial-insemination lab. "We need investment."
But it's not easy for investors, says farm director Yevgeny Butovsky. "Bureaucracy is much more aggressive now than even five years ago," says Mr. Butovsky, whose operation is controlled by more than 50 agencies. "To respect … all the rules is just impossible."
---