Bosnian steel mill spurs trade in war-torn Balkans
ArcelorMittal, the world's largest steel company, has revived the mill with a $280 million investment.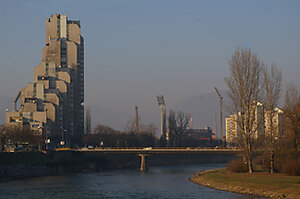 Colin Woodard
Zenica, Bosnia-Herzegovina
For decades, the steel mill that dominates this city's skyline also dominated its economic life – supplying steel to all of Yugoslavia until the 1991-95 war tore the country apart. When the fighting stopped, the mill's prospects were dim: a Communist-era dinosaur isolated from suppliers and customers by wartime damage and postwar borders.
But today, the steelworks are operating again. By spring – when a new blast furnace comes on line – the mill will be back in full swing, converting Bosnian iron ore into more than 2 million tons of fresh steel a year.
"We took an unviable operation and turned it into one that is viable and sustainable," says M. K. Srinivasan, chief executive of the mill, which is owned by ArcelorMittal, the world's largest steel company. "I can say we are definitely one of the major drivers of the national economy.
Restoring the mill hasn't been easy under the country's ethnically divided government, and ArcelorMittal has made some enemies along the way. But supporters see the investment – the region's largest private foreign investment since the war – as a potential savior for Bosnia-Herzegovina's troubled economy, which suffers from 45 percent unemployment and a massive trade deficit, with imports exceeding exports last year by more than 2 to 1.
When returned to full capacity, the mill will employ 4,500, produce hundreds of millions of dollars in annual exports, and create demand for Bosnian iron and limestone mines and the cash-strapped national railway.
"It puts Bosnia in a position of being a major steel supplier for the entire former Yugoslav region," says Christopher Beauman, an industry expert at the European Bank for Reconstruction and Development in London, which helped finance the investment. "Whatever the pros and cons of breaking up Yugoslavia politically, it made no sense economically; these countries have to trade together and this investment is helping reintegrate the regional economy."
---