An American – university – in Kosovo
Chris Hall is president of a three-year-old college that hopes to instill values of free exchange and civil society.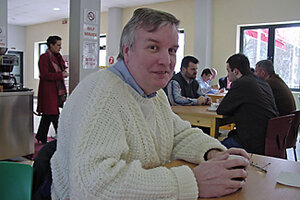 Robert Marquand
A few years ago, Chris Hall was a state senator from midcoast Maine. He had quit a job as a steel and mining executive, deciding "never again" to do the weekly commute from Portland to New York. But a defeat in 2004 opened the door for Mr. Hall to become the first president of one of the more unusual colleges in Europe: the American University in Kosovo.
After decades of repression and war, Kosovo's schools were in tatters. A privileged few studied abroad. But AUK, formed three years ago with funds from the Albanian diaspora and the only multiethnic private college here, aspires to help the somewhat battered new state build its next generation of leaders. It's a mission the Oxford-educated Hall deeply believes in.
Kosovo's declaration of independence on Feb. 17 may have brought angry protests from Serbs 30 miles away on the Ibar River, but Hall has a college to run. He sits in on statistics classes, juggles scholarships and budgets, coordinates with Rochester (N.Y.) Institute of Technology, which grants AUK degrees, and hires Fulbright scholars.
He's added a public policy program to what is now a business degree and helped create one of the freest weekly political forums in Pristina, albeit one in English. He wants the small school to breathe the values of civil society and intelligent democratic sentiments.
---