U.S. skiers Miller and Vonn win overall World Cup
For the first time since 1983, Americans captured both the men's and women's titles at the season finale in Bormio, Italy.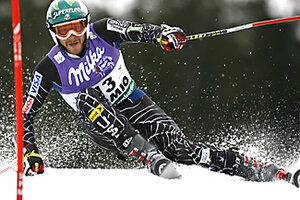 Alessandro Trovati/AP
A historic year for US skiing began with a wedding and a divorce.
Six months ago, few expected two Americans to be crowned the best alpine skiers this weekend, winning both the women's and men's World Cup overall title for the first time since 1983.
Lindsey Kildow's inability to find the brakes had made her as familiar with crash netting as the podium – until she wed ex-racer Thomas Vonn, who, she says, taught her that "you can't ski at 110 percent all the time."
Renegade Olympic medalist Bode Miller, meanwhile, veered into unknown territory – again – when he split with the US ski team after years of disputes.
Since then, though, Mr. Miller and Ms. Vonn have skied better than anyone on the planet, shocking a sport that sometimes seems to be little more than a European supper club in crash helmets. Miller is only the second non-European man to win the World Cup overall title since it was established in 1967; Vonn is the third woman.
It offers a measure of vindication to Miller – not that he is likely to care – after he emerged tarred, feathered, and medal-less from the 2006 Olympic Games to ski an indifferent 2007 season. For Vonn, still on the upward arc of her career, it provides a glimmer of what could lie ahead.
---