In Moscow, Rice signals warmer US-Russia ties
High-level talks on contentious issues such as missile defense had a markedly different tone from past rhetoric.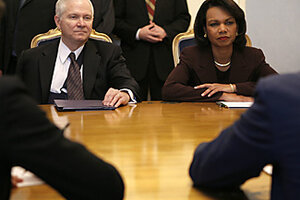 Kevin Lamarque/reuters
A grand strategic bargain between Russia and the US could be in the wind, after years of deteriorating relations that some commentators have dubbed "a new cold war."
After two days of talks with Russian leaders, including President Vladimir Putin and President-elect Dmitri Medvedev, US Secretary of State Condoleezza Rice told journalists it was looking likely that Mr. Putin and President Bush will "realize their strategic vision" when they meet on the sidelines of a NATO summit two weeks from now in Bucharest, Romania.
"We have agreed that there should be a joint strategic framework document for the presidents to be able to record all of the elements of the US-Russia relationship as we go forward into the future," Ms. Rice said.
The idea of a wide "strategic framework" between the two outgoing leaders was suggested by Mr. Bush in a letter to Putin early this week that talked about the presidents' legacies.
"It is a serious document, and we analyzed it carefully," Putin said Monday.
Rice suggested that cooperation against nuclear terrorism and efforts to provide peaceful atomic energy to all nations could be part of the package. But without progress on some of the key issues that still divide Russia and the US, such a deal might be distinctly hollow.
---