In divided Cyprus, new leader Christofias energizes unity bid
The Greek Cypriot president meets Turkish Cypriot leader Mehmet Talat Friday to discuss the renewal of reunification talks.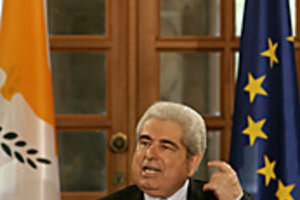 Petros Karadjias/AP
Rarely does the United States show keen interest in a distant country half the size of New Jersey. Nor does Washington usually welcome a communist election victory.
But in Demetris Christofias, the new Greek Cypriot leader, the US and European Union see an opportunity to end the division of Cyprus – a conflict that has stymied mediators since 1974. Now, for the first time in decades, there are conciliatory leaders on both sides of the divide.
On Friday, Mr. Christofias will meet Mehmet Ali Talat, the leader of the estranged Turkish Cypriot community, to resuscitate moribund talks. It will be their first meeting since Christofias, a Soviet-educated builder's son with the common touch, came to power last month.
"Solving the Cyprus problem is the first priority of our government," he declared at his inauguration. Mr. Talat in turn welcomed Christofias's victory over hard-liner Tassos Papadopoulos. "We have every reason to expect a solution by the end of the year," he said.
---