U.N.: 'Rock-solid' proof of Serbia's hand in Kosovo violence
Together with a new report from the International Crisis Group, the accusation suggests Belgrade is actively undermining Kosovo's independence.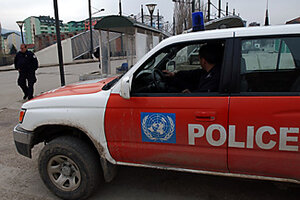 Zveki/ap
Mitrovica and Pristina, Kosovo
In the wake of this week's violence in Kosovo, the worst since it broke away from Serbia Feb. 17, the United Nations and the International Crisis Group (ICG) have accused Belgrade of actively undermining the newly declared state.
While there have been rumors over the past month of Serbian provocation, these claims suggest a more concrete entrenchment of Belgrade against international efforts to enforce Kosovo's independence.
On Wednesday, the UN accused Serbia of complicity in events leading up to riots earlier this week in the ethnically divided town of Mitrovica. After Serb protesters took over a courthouse last week, UN peacekeepers stormed the building Monday, prompting fierce clashes that left an international policeman dead and hundreds of people wounded. During the violence that followed its return to UN control, several members of the Serbian Interior Ministry were arrested.
Alex Ivanko, the UN mission's chief spokesman, told journalists, "We have rock-solid proof that there were officials of the Ministry of Interior present at the courthouse."
In a follow-up interview with the Monitor, Mr. Ivanko claimed to have evidence that Serbian government representatives crossed illegally into Kosovo ahead of the takeover last week. "They were there when the courthouse was taken by the Serbs, and on Monday several of them were arrested and taken to Pristina," he said.
---