Author of mafia exposé lives in spotlight – and gun sights
Roberto Saviano says he would be giving in to mob power if he left Italy because of the death threats 'Gomorrah' has brought him.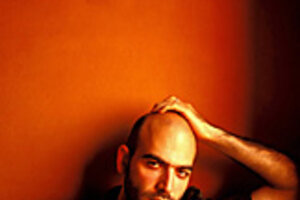 MaxPhotos/Newscom
The first people Roberto Saviano sees every morning are his bodyguards – the three Italian policemen who pick him up in a bulletproof sedan, drive him to the gym, or take him on errands. They haven't left him alone since "Gomorrah" – his fierce critique of the Neapolitan mafia, the Camorra – hit best-seller lists in October 2006, bringing fame, fortune, and some powerful and ruthless enemies.
But today, because of international and British laws that don't permit him the usual retinue of government bodyguards here in London, he's been entrusted to me – 135 pounds of journalistic muscle. Mr. Saviano doesn't speak English, and I – a native Neapolitan, myself – do; so his agent thinks I'm some sort of protection for him, and I laugh half-heartedly when the agent jokes about me being his bodyguard for a day.
I accept the task as coolly as I can, but in the back of my mind I'm wondering if I might end up between him and a hit man. I'm hardly relieved when, cautious but confident, Saviano walks out of his hotel wearing a dark coat, unmissable Italian sunglasses, and a dark scarf pulled up to his wool coppola cap. Nor am I comforted when the taxi driver, who seems to have been instructed not to breathe the name Saviano, calls out "Car for Mr. Roberto."
But as he cheerfully sidles into the back with me, it's his sunny disposition in spite of it all that cuts the tension. He peels off his hat and glasses and jokes about how conspicuous he looks wearing them in London.
This is our second day together, and maybe having a fellow Neapolitan interviewing him puts him at ease, but he chats freely as if we were old schoolmates with catching-up to do.
---