'Fitna': Dutch leader's anti-Islam film brings strife
Far-right politician Geert Wilders's latest attempt to air the controversial video has been delayed by US-based website host Network Solutions.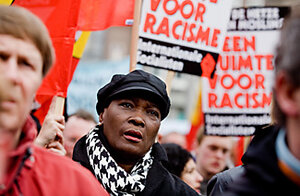 Fred Ernst/AP
It's a lurking provocation in Europe's sometimes rocky encounter with its burgeoning Muslim population: For months, a popular, flamboyant far-right Dutch party leader has been preparing an incendiary film about Islam rumored to contain lurid scenes of execution and a flaming Koran. With his flashy dyed platinum hair and his 24-hour security protection, Geert Wilders routinely compares the Koran to Hitler's "Mein Kampf," says almost all terrorists are Muslims, and advocates deporting Islamic clerics.
So it isn't surprising that the short film – which has yet to secure an outlet that will air it – is being compared to Danish cartoons of the prophet Muhammad that sparked global Muslim riots two years ago. Iran and Pakistan have condemned the video, titled "Fitna" – Arabic for strife. The Taliban has threatened retaliation against Dutch troops in Afghanistan.
"Fitna" has so far been the biggest show never seen, but the buildup has given Mr. Wilders growing publicity, and civic leaders time to respond.
---