In Turkey, secularists escalate fight against ruling AKP
The country's highest court is weighing whether to allow a motion to shut down the party, saying its Islamic initiatives cross a constitutional line.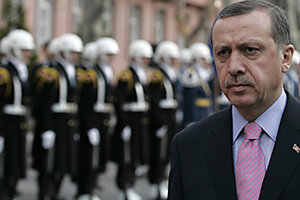 Umit Bektas/Reuters
Turkey's secular establishment has dramatically escalated its fight to thwart the growing influence of the ruling Justice and Development Party (AKP) and the emerging socially and religiously conservative middle class that it represents.
After protesting the AKP's presidential candidate, precipitating new elections, and then losing out to the AKP at the polls last year, hard-line secularists are now taking a new tack: trying to shut down the party for "expunging" the Constitution's secular principles.
Turkey's highest court is set to decide in the coming days whether to allow the motion, filed by the country's top prosecutor on March 14, to go forward. If the Constitutional Court decides to allow the case to proceed, it could plunge Turkey into a deep crisis, threatening the country's emerging political and economic stability and further jeopardizing its already troubled bid for European Union membership.
"This would definitely hinder the government in many ways. There are so many things to be done, such as issues relating to the EU, Cyprus, and the economy, and the government would no longer be in a position of authority," says Sahin Alpay, a political science professor at Istanbul's Bahcesehir University. "What the people going after the party are doing is really shooting the country in its own feet."
EU officials have criticized the closure move, calling it antidemocratic.
"In a normal European democracy, political issues are debated in parliament and decided in the ballot box, not in the courtroom," said EU Enlargement Commissioner Olli Rehn in response to the prosecutor's unexpected call to shut down the AKP. "It is difficult to see that this lawsuit respects the democratic principles of a normal European society."
---