Bruni and Sarkozy disarm the British in cross-Channel charm offensive
France's first couple breeze past centuries of British-French antagonism on two-day state visit.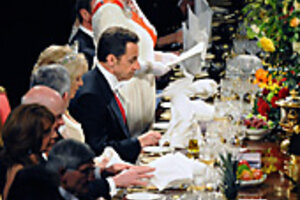 Anwar Hussein/WireImage
They have perhaps the longest international rivalry in the history of the nation state, a mutual disdain rooted in generations of medieval war, decades of imperialistic antagonism and a cultural dissonance that persists to this day.
But are Britain and France about to kiss and make up?
A frisson of "fraternité," "entente amicale," and "amitié was rippling through Britain's political class (not to mention the usually francophobe tabloid press) Thursday after one of the most remarkable state visits by a French leader since World War II.
Nicolas Sarkozy, ridiculed at home for his vulgar ways and "bling-bling" taste in accessories (and women), stunned British parliamentarians with a speech of exquisite praise for all things English and a call for a new 21st-century brotherhood between the old adversaries.
There was an extraordinary declaration of thanks for the Churchillian resolve that helped rescue France "when it was virtually wiped out, down on its knees," an expression of gratitude that it is hard to imagine his predecessors ever giving.
There were concrete proposals – for Britain to join France at the heart of Europe, working together to solve some of the big global issues of the day such as climate change, energy, immigration, security, and Afghanistan.
And there was a grand overture: "that together we write a new page in our shared history, that of a new Franco-British brotherhood – a brotherhood for the 21st century."
---