Global BBC poll shows improved U.S. image
The wide-ranging survey, conducted in 34 countries, also found that Russia's status has significantly increased.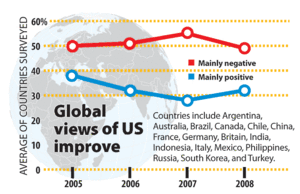 SOURCE: BBC / GlobeScan / PIPA/Rich Clabaugh–STAFF
The world may not be ready to forgive George Bush, but it is slowly starting to forgive America. That was the strongest message to emerge from a survey of attitudes in 34 nations toward the world's leading powers released here Wednesday.
"There are a number of reasons to think this is ultimately a turning point [in perceptions of the US]," says Steven Kull, director of the Program on International Policy Attitudes (PIPA) at the University of Maryland, which helped conduct the BBC World Service poll of more than 17,000 people.
Previous surveys showed global dismay about US influence in the world, especially its handling of prisoners at Guantánamo and Abu Ghraib, as well as White House inertia on climate change and Middle East peace.
Since the annual survey was established in 2005, an increasing percentage of respondents have said that America exerts a negative, rather than a positive, influence. But this year, US ratings improved in 11 countries and worsened in only three; on average across the entire survey, 35 percent of people said the US had a positive influence, compared with 31 percent a year ago; the percentage that discerned a negative influence fell to 47 from 52.
---