U.S., Europe gulf opens at NATO summit
European objections keep Georgia, Ukraine off membership track, but US plans for missile-defense program in Europe gets an endorsement.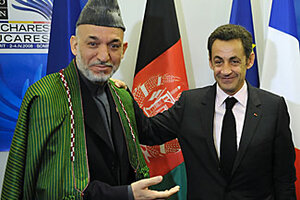 Eric Feferberg/Pool
Vladimir Putin, who will be the first Russian president to set foot at a NATO summit, arrives Friday at a meeting where basic differences among Americans and Europeans emerged more openly and sharply – partly over how to deal with Russia's rise under Mr. Putin.
The White House scored success in two crucial areas – troops for Afghanistan and an agreement to move forward on a missile-shield defense. French President Nicolas Sarkozy agreed to send a battalion – 700 soldiers – to eastern Afghanistan; the Americans promised to rotate some of their troops from the east into the south, where the heaviest fighting is, satisfying the Canadians, who had promised to pull out their troops if not given greater backup. Canadian Prime Minister Stephen Harper at the meeting expressed "real confidence" that the issue has been solved.
NATO members all supported the US position on missile-shield defense, which is to be deployed in the Czech Republic and Poland. "There is a threat … and allied security must be indivisible in the face of it," read the statement on missile defense.
---