Housing roils Spain's economy as Zapatero starts second term
Inflation and unemployment have risen sharply since last year.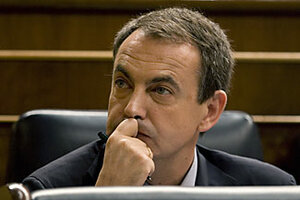 Bernat Armangue/AP
Newly reelected Spanish Prime Minister José Luis Rodríguez Zapatero used his lengthy investiture debate this week to lay out plans to ease what he called Spain's economic slowdown. But with the country's fortunes riding disproportionately on the hard-hit real estate industry, many experts see something worse than a slowdown at hand.
"This talk of a 'slowdown' makes me laugh," says Mikel Echavarren, CEO of Irea, a Madrid-based real estate consulting firm. "First, they talked about a 'soft landing.' Then it was a 'slowdown.' Those are deceptive terms. We are in a serious crisis."
Like other European Union countries, Spain has seen unemployment rates increase and food and other prices rise precipitously in the past year. Yet because the housing industry accounts for more than 9 percent of the country's gross domestic product – more than double that of many other economically advanced nations – the crisis is hitting Spain in particularly painful ways.
On Wednesday, the International Monetary Fund predicted that Spain would experience the greatest drop in annual economic growth among developed nations this year, falling from 3.8 percent to 1.8 percent. The IMF currently estimates a 4 percent inflation rate, one of the highest in the eurozone, and unemployment has jumped to 9.5 percent from 8.3 percent.
---