London mayoral race: a contest of eccentrics
Outspoken conservative Boris Johnson leads 'Red' Ken Livingstone in the polls.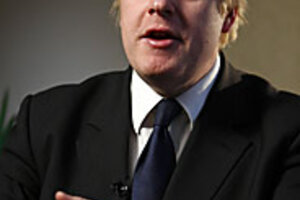 Sang TAN/AP
Boris Johnson leaps vigorously onto a low wall and raises his hands.
"Do you like buses?" he bellows. It's an odd question, even for a London mayoral candidate. This is one of the city's most affluent suburbs. The lightly perfumed voters in attendance look more likely to travel by chauffeur-driven Bentley.
"Isn't it great to see so many police here," he tries next, though the lunchtime throng appears no more menacing than a convention of retired gardeners. A low murmur ensues.
Gradually though, Mr. Johnson presses the conservative buttons, launching into a florid rant about scrapping committees, planting trees, punishing bad teenagers, and stopping people drinking alcohol on the subway "in a threatening manner." "I want to make the public space safer," he culminates in that posh English accent of a bygone era.
It's a message that appears to have broad appeal in a city that goes to the polls in two weeks. Despite having made London less congested, more harmonious, and perhaps even more successful during his eight-year tenure, Labour incumbent Ken Livingstone is trailing Johnson in a race pundits say is more about personality than policy.
"[Johnson] has got energy, charisma, he's someone who people can believe in to deliver change," says David Cameron, the Conservative Party leader. "He's a forceful personality and change needs that."
Mr. Livingstone is forceful too, but his hobby (newts), allegations of cronyism at City Hall, and questions about his private life have not helped.
---