In Germany, a breakthrough year for immigrant politicians
This weekend, more than 50 elected officials of Turkish descent meet to spur wider political participation among the country's 2.7 million Turkish residents.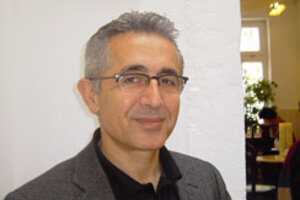 Isabelle Pommereau
After fleeing Turkey as a young adult, Turgut Yüksel discovered that in Germany, too, young people suffered from social injustice. So he joined the Social Democratic Party, using hip-hop and soccer to bridge ethnic divides among youths.
Aygül Özkan, whose Turkish parents worked as tailors, is helping young immigrants get a head start in business through her Forum of Turkish Entrepreneurs.
Elected this year in groundbreaking votes for Germany's substantial Turkish population, the pair represents a new, more inclusive generation of politicians in this country. Often the children of guest workers who helped rebuild postwar Germany, they are entering mainstream politics – giving a new perspective on a range of issues.
"For almost a century, we lived side by side, yet in worlds apart," says Karl-Heinz Meier-Braun, the integration and immigration specialist for German Southwest Public Radio. "What we're seeing is Germany finally facing its role as a country of immigration."
Ten years ago, Germans with immigrant backgrounds were virtually absent from politics. Today, six sit at the European Parliament in Strasbourg, 11 in the Bundestag (parliament), 37 in state legislatures, and hundreds more on the city councils of big cities from Bremen to Stuttgart. When the Network of Elected Officials With Turkish Backgrounds meets in Stüttgart Saturday, it will celebrate history in the making – the election this year of the first Turkish-born state legislator in Hesse (Mr. Yüksel) and that of Hamburg's first Christian Democrat legislator of Turkish origins (Ms. Özkan) in a country where immigrants traditionally favor left-leaning parties.
---