British ex-jihadis form ranks for tolerance
The Quilliam Foundation was launched Tuesday as a counterweight to political Islam among young Muslims.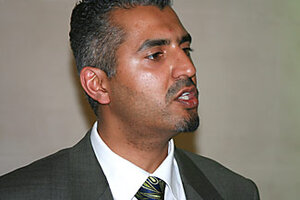 Mark Rice-Oxley
They once plotted insurrection in Britain. Young, middle-class, and angry, they were the vanguard of a generation of disaffected Muslims that, at its most extreme, gave rise to the July 7, 2005, transportation bombers.
But now, in one of the most visible assaults on political Islam from within the British Muslim community, a network of ex-radicals launched on Tuesday a movement to fight the same ideology that they once worked to spread.
The Quilliam Foundation – named for a 19th-century British convert to Islam – aims to propagate a tolerant and pluralistic view of Islam among young Muslims who are the most vulnerable to radicalism.
"We are trying to rescue our faith from those who have sadly hijacked it," says Ed Husain, author of "The Islamist," a book about his own radical years, and deputy director of the foundation. "There is a Western Islam in the making and it is not arrogant or extreme."
Mr. Husain has said that as long as Islamist militants provide "social honor" for suicide bombers and spuriously use doctrine to justify violence and political aims, "then we will continue to see mass murderers being respected as martyrs."
Guided by mainstream Muslim scholars and supported by prominent politicians and academics, the group of around a dozen ex-radicals plans to expose what it calls the weaknesses of Islamist rhetoric and actions – in short, to recapture Islam from the ideologues and terrorists.
"We are trying to fill a vacuum. The ideology of Islamism has sadly become the default for political discourse among young British Muslims," says the foundation's director, Maajid Nawaz, a former radical who until last year was a leader of the Hizb ut-Tahrir (Liberation Party) group, which wants to revive an international caliphate across the Muslim world, although it advocates doing so through nonviolent means.
---