U.N. takes up Russia-Georgia crisis over downed drone
The Security Council meets today to discuss Tbilisi's allegation that Russia shot down its spy aircraft. Moscow says the drone's flight over the breakaway region of Abkhazia violates a cease-fire.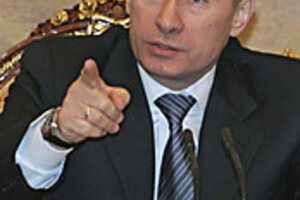 Mikhail Klimentyev/AP
The simmering tensions between Russia and its West-leaning neighbor, Georgia, have flared dramatically over the shooting down of a Georgian reconnaissance drone this weekend.
Moscow has accused the post-Soviet state of violating United Nations cease-fire agreements by flying the unmanned aircraft over the pro-Moscow separatist region of Abkhazia. Georgia, for its part, claims hard proof of Moscow's meddling, releasing a video it says was taken by its drone that shows images of what looks like a MiG-29 – flown only by the Russian Air Force in that region – shooting a missile that rapidly approaches the camera. The clip ends abruptly in static.
"After repeated incidents of Russia violating Georgia's airspace and unprovoked acts of aggression, this time we have video footage of a Russian aircraft attacking Georgian territory," Georgian President Mikhael Saakashvili told journalists Monday night.
---