In E.U., hope dims for Iraqi refugees
Sweden, Europe's most generous host, is scaling back to ease strains on its welfare system. One town alone has accepted more Iraqis than the US since 2003.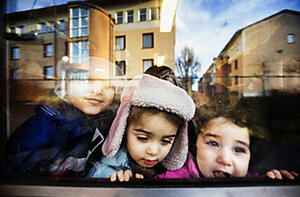 Caroline Tibell/AFP
Last year, Mr. Tobya watched his livelihood turn to ashes. First, insurgents with Molotov cocktails torched his liquor store in central Baghdad. Then, he says, his business partner was kidnapped and fatally shot.
Fearing for his life, Tobya fled to this sleepy town in Sweden's snow-covered hills, where friends and family had found refuge. But the Swedish government has denied his asylum claim and asked him to return to Iraq.
"If they could guarantee that no one would kill me, I would go back tomorrow," says Tobya, a stocky man with cropped, thinning hair who asked that only his last name be used. "But Baghdad – the place is an inferno."
Until recently, Sweden was a kind of Promised Land for Iraqi refugees. Drawn by its liberal asylum rules and generous social benefits, 18,559 Iraqis sought refuge here in 2007 alone – far more than in any other Western country.
Humanitarian groups have held up the nation's policies – part of a long open-door tradition – as a model. They have also warned that if other industrialized nations don't follow Sweden's lead and take in more Iraqis, the mounting refugee crisis in the Middle East could destabilize the region. But with its welfare system under strain, Sweden has begun clamping down on Iraqi asylum seekers in recent months, dampening hopes that the West will step in and help contain the crisis.
Indeed, since January, the nation has granted just 25 percent of Iraqi asylum claims, down from more than 80 percent in 2007. It has also begun forcibly deporting those rejected back to Iraq.
"We had hoped to see other nations rise to Sweden's level," says George Joseph, the director of Caritas Sweden, a Catholic aid group. "Instead Sweden has stooped to meet them."
---