On eve of Serbia vote, E.U. pact means more aid
Serbia will sign a premembership deal with the E.U. today that could bolster trailing pro-Western parties and give it greater access to record funding for the Balkans.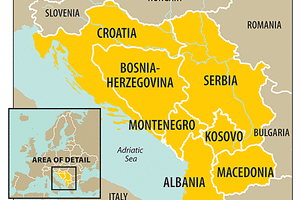 Rich Clabaugh
If this small Balkan country had a soundtrack, it would be the music of hammer, drill, and saw.
A 25-house development for the downtrodden Roma minority is in the works in Bernane. The coastal highway between Budva and Bar is getting a facelift. Gleaming buildings are going up here in the capital. Bridge and sewer projects abound. Towns are building new schools.
"Everything is under construction," says Milija Bozovic, a Budva tour guide.
Footing the bill for much of this? The European Union. The EU is pouring record funds into the western Balkans: €710 million ($1.1 billion) budgeted in 2008 alone – a 16 percent increase over last year, according to EU figures.
The EU's official line is that the assistance reflects the progress Montenegro and its neighbors are making toward eventual membership in the bloc. But some analysts and diplomats say the aid is playing a more important role: to shore up EU loyalty in the region at a time when its largest country, Serbia, is at a critical crossroads in its relationship with Brussels.
Ahead of May 11 parliamentary elections, polls show Serbia's pro-Western coalition trailing the ultranationalist Radical Party by a slim margin.
In an effort to tip the balance in favor of the pro-Western parties, the EU has been pushing its members to offer a new pre-membership aid-and-trade pact to Serbia. On Tuesday, EU foreign ministers meeting in Luxembourg agreed to sign the so-called Stabilization and Association Agreement (SAA) with Serbia later in the day, though it will not be implemented immediately.
---