As Britain votes, Gordon Brown faces first big test
The prime minister's Labour Party, the dominant force in British politics for over a decade, is trailing the Conservatives by as much as 18 percent ahead of Thursday's local elections.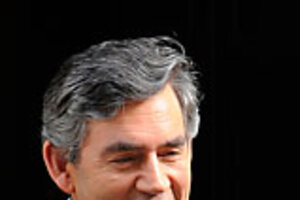 ToBy Melville/Reuters
When Gordon Brown met the three major US presidential candidates on a US trip in early April, it was billed as an important getting-to-know-you exercise for a prime minister keen to build a relationship with his most important international ally.
But ever since he got home, Mr. Brown has been scrambling to ensure that he remains in office long enough even to welcome the new president into the post.
A dismal succession of reversals, political and economic, have put Brown and his Labour Party on the defensive as they confront the first major test of the prime minister's popularity: Thursday's local elections. The New Labour project, started in 1997 under Tony Blair's leadership amid a wave of optimism, has never looked so close to eclipse.
Brown, who has carried the mantle since Blair's exit last June, has been deserted by his own members of parliament (MPs) on tax reform. Economic woes are deepening, his personal popularity has plummeted, the press has largely turned on him, and the opposition Conservatives are polling better than at any time since 1992.
"It has been ... a chastening few weeks for the prime minister," says John Grogan, a Labour MP. The best the party could hope for Thursday, he says, would be to come second behind the Conservatives with 30 percent of the vote nationally.
---