On eve of inauguration, Russia's Medvedev dogged by voting irregularities
Mathematician Sergei Shpilkin has found a disproportionate number of polling stations reporting figures ending in five and zero.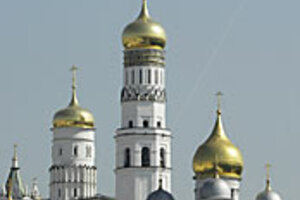 Alexander Zemlianichenko/AP
Behind the pomp and ceremony of Dmitri Medvedev's Kremlin inauguration, some Russians say there remain nagging questions about the legitimacy of the process that made him president.
Russia's Central Election Commission (CEC) reported that 69.7 percent of Russian voters turned out for the March 2 presidential elections, and Mr. Medvedev won overwhelmingly over his three rivals with 70.3 percent of the votes.
But a recent study of the official results by mathematician Sergei Shpilkin, a popular blogger, found statistical anomalies that bolster critics' claims that the elections were unfair. His analysis suggests that up to a third of the votes may have been rigged as part of an attempt to inflate Medvedev's margin of victory.
"It's a combination of fraud and administrative resources [official intervention] and it is difficult to distinguish between them," Mr. Shpilkin told a press conference at the Carnegie Center in Moscow last month. "One vote in three cannot be explained" by normal statistical models, he added.
Shpilkin found that an extremely improbable number of Russian polling stations reported turnout and voting results that ended in a round number, either a five or a zero.
"Figures ending in fives and zeros are best for falsification," says Vladimir Pribylovsky, head of the independent Panorama think tank in Moscow. "It's a sign that votes have been stolen, then folded into round numbers."
---