In Putin's shadow, Russia inaugurates Medvedev
The new president, a savvy lawyer who likes Led Zeppelin, faces rising corruption and decaying national infrastructure.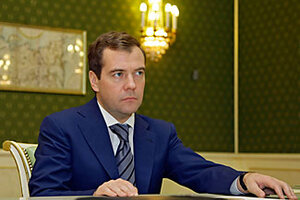 Dmitry Astakhov/AP
Dmitri Medvedev was inaugurated as post-Soviet Russia's third president Wednesday in a lavish Kremlin ceremony designed to emphasize the near czarlike authority of the office he now holds.
But Mr. Medvedev, a youthful apparatchik who favors
Deep Purple and seeks Internet-savvy underlings for his administration, will face a daunting list of issues as he begins to wield that power.
First among these, experts say, is an urgent need to clarify his relations with the man who will formally hand him the keys to the Kremlin on Wednesday: his longtime mentor, Vladimir Putin.
In any effort to assert himself, experts from across the political spectrum suggest, Medvedev will have little choice but to confront many accumulated problems left behind by Mr. Putin, which include spiraling corruption, growing authoritarianism, and decaying national infrastructure.
"It is absolutely necessary for Medvedev to move from being the elected president to being the real one," says Boris Nemtsov, a former deputy prime minister and coauthor of "Putin: The Bottom Line" – a scathing assessment of Putin's legacy whose distribution has been largely suppressed in Russia. "Our Constitution gives the president almost unlimited authority to rule ... but how to assume this power is an immediate practical problem for Medvedev."
How he goes about that could shed light on whether his tenure will mark a departure from Putin's approach, or, as he himself has pledged, to build upon the successes of the Putin era.
---