Nationalistic debate as Serbia heads to polls
On Sunday, Serbs will weigh in on whether to pursue a pro-European Union path or a more nationalistic, anti-Western route.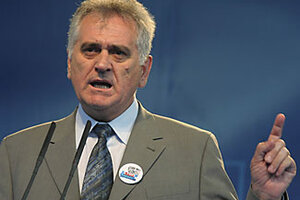 stevan lazarevic/reuters
Nis, Serbia; and Zubin Potok, Kosovo
The Serbian Radical Party's election rally in the main square of the southern town of Nis seemed, at first glance, like any other campaign event. Popular music played over the PA system. Badges and hats were sold from makeshift stalls, and families with children listened to the speakers.
But the music was sung by the widow of Arkan, a Serbian paramilitary whose units wreaked havoc in Bosnia and Kosovo during the 1990s. The badges bore the face of Vojislav Seslj, the Radical Party's founder, who is on trial in The Hague for crimes against humanity, and the hats were berets of Chetnik fighters.
The families provided the final proof of how far this ultranationalist party has come in its battle to persuade Serbs that it – not pro-Western parties – offers the country a brighter future.
The polls are being billed as the most important ones since the fall of former President Slobodan Milosevic. But with neither the pro-European Democrats nor the Radical Party expected to score an outright victory, the direction of the country will rest with a handful of power brokers from smaller parties seeking to cement their influence in Serbia's fractured political landscape.
That worries Western leaders, who fear that the need for coalition building could favor an alliance of the Radical Party and the nationalistic DSS Party of Prime Minister Vojislav Kostunica. Such an outcome, they argue, could discourage investment in Serbia, scupper the country's EU membership prospects, and orchestrate further trouble in Kosovo.
---