New crop of gardeners in plush London suburbs
Food prices and concerns about commercially grown produce are prompting a 'grow your own' culture.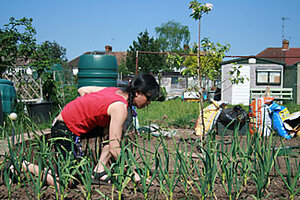 Mark Rice-Oxley
Hosing down a row of perky-looking onion tops, Catherine Chu confesses she came late to gardening.
"I never even picked up a spade," she chuckles. "Now I'm completely obsessed."
But it's more than a hobby: Ms. Chu goes through the whole summer without having to buy vegetables from stores. Her allotment – a 50-by-20 foot public plot rented from the council – feeds her, her husband, and their daughter. She smiles at the thought: subsistence farming on the edge of Europe's biggest city.
Such green-fingered industry is becoming more and more common in Britain, where concerns over food prices and provenance is driving the "grow-your-own" (GYO) culture.
Seed suppliers say sales of vegetable seeds have shot up this year. Rowena Hall, of the seed company Thompson and Morgan, says vegetable seeds now outsell flower seeds. Potato seed sales alone are up 10 percent this year.
While many people will grow in their own garden, hundreds of thousands who don't have the space at home will pay a nominal fee for a public plot, known as an allotment. If they can get one, that is.
"There is a very long waiting list," says Bryn Pugh of the National Society of Allotment and Leisure Gardeners. "The interest has mushroomed over the last two years. It's the young professionals who are taking allotments now. They appreciate the fresh food and exercise and can feed families on food that is as free from chemicals as it's possible to be."
On the 72-plot triangle of land wedged in between residential houses in Kingston, southeast England, Chu says the spike in interest in palpable. "When I first came here four years ago, the place was almost derelict. Now there's a waiting list of 30 for plots."
---