Oxford shakes up British higher education with fundraising drive
It launched the $2.5 billion billion campaign Wednesday to help the school better compete with Ivy Leagues and other world-class institutions.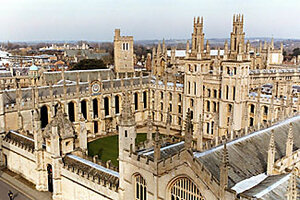 AP
The University of Oxford launched on Wednesday the biggest fundraising campaign in European academic history to help the august institution keep pace with better-funded US rivals.
The university aims to drum up £1.25 billion ($2.5 billion) to aggressively recruit top academics from around the world and support its unique 1-on-1 tutorial system. It said more than 20,000 donors had pledged £575 million during the campaign's "pre-launch phase."
"We want to stay world class; we want to be the best in the world," said university chancellor Chris Patten. He added that Oxford lagged well behind at least three Ivy League universities – Harvard, Yale, and Princeton – in terms of funding, "and we want to compete in the world economy for the best academics."
The move sends two clear messages: First, Britain's 100-plus universities will increasingly have to rely on their own fundraising efforts. Second, those that are less successful or resourceful will quickly lose status.
---