All eyes on Irish in key E.U. vote
In a referendum Thursday, voters could strike down a continent-wide treaty designed to boost Europe's clout.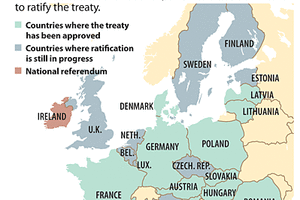 SOURCE: EU/Rich Clabaugh–STAFF
On Thursday, Ireland will be – for a day, at least – the most influential country in Europe, as its citizens vote on a treaty designed to streamline continent-wide cooperation on everything from climate change to international terrorism.
Advocates hope the outcome will be more than a better-oiled bureaucracy, however. They say the Lisbon Treaty would strengthen the European Union on the world stage, giving it more leverage on important issues such as its energy policy toward Russia, which has been hamstrung by a lack of coordination for years.
In order to go into effect, the treaty must be ratified by all 27 members of the EU. Ireland alone has put the treaty up for a public referendum instead of a parliamentary vote, essentially giving Irish voters a veto over the whole process.
Yet in an ironic twist for a treaty intended to "promote the interests of its citizens on a day-to-day basis," many Irish are so befuddled by the 269 pages of what one expert calls "Eurobabble" that they don't even understand what they're voting on.
"It's impossible to read," says Maria Cahill from the law faculty at the University of Ireland in Galway. "It's a civil servant's manual rather than something the average citizen could read. Even if you do get through the text, it makes references to all of the other [EU] treaties, so it would take weeks to get a comprehensive understanding of what it's about."
---