Europeans eye U.S. models to ease school segregation
A diverse area in Amsterdam weighs assigning students based in part on race, class, and parents' education level.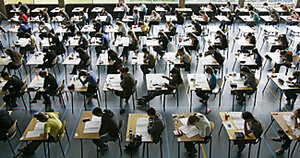 Vincent Jannink/AFP/NEWSCOM
With immigration rapidly changing the face of European and Dutch society, some leaders are looking to confront rising racial and class divisions through solutions rooted in the American civil rights movement.
In Amsterdam's diverse Oud West neighborhood, where roughly a third of students come from households where neither parent has the equivalent to an American high school diploma, a pilot project is being floated to integrate increasingly segregated schools based on a model used in cities such as Boston, Seattle, and Little Rock, Ark.
The project is in early stages of research and will be proposed later this year to parents, who in the Dutch education system have a large say in their children's schooling.
"You need to talk to people first – it is usually a new idea to them," says Bowen Paulle, a sociologist with the University of Amsterdam who has worked in low-income schools here and in the Bronx in New York. "But I think it has the potential to lead to real macro-level social change."
---