UN chief signals shift on Kosovo
Despite Russian and Serbian opposition, UN Secretary-General Ban Ki Moon said Friday the UN would gradually cede its role.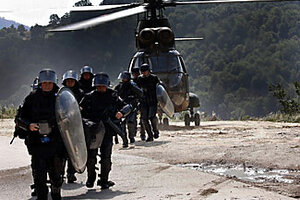 Zveki/AP
For 16 months, Russia and the West have been a bit eyeball-to-eyeball in the United Nations Security Council over the status of Kosovo. But to borrow Dean Rusk's famous phrase during the 1963 Cuban missile crisis, it appears that UN Secretary-General Ban Ki Moon has just blinked.
Mr. Ban's concession on Friday appeared to brush aside Russia's objections and clear the way to end the nine-year "UNMIK" mission in Kosovo. Last week, Pristina authorities inked a milestone constitution, following a February declaration of independence.
For much of the past nine years, Kosovars described themselves as bystanders in their own fate; the future of this gritty city was controlled by Moscow, Washington, Brussels, and New York. A UN departure may begin to change that.
"Ban Ki Moon has clearly moved closer to the position of those states that recognize Kosovo, but from the Serb position, they've got what they wanted," says James Lyon of the International Crisis Group in Belgrade. "They have de facto taken Kosovo north of the Ibar River."
---